"I don't have time to go to the gym" is something you hear your friends, family, and co-workers say. The problem isn't that you don't have time, it is because you don't want to make the time.
Maybe you have to travel for work and you don't have one gym that you can frequent? Whether you live a super-busy schedule or you don't know how to manage your time, we're going to go over five easy tips to help you get a workout in.
Build A Home Gym
Listen up before you start screaming "I don't have the money or space!" Building a home gym doesn't mean that you have to have your power racks, every type of bench, and a leg press machine.
When building a home gym, take your goals into consideration and build to complement them. Can you only get to the gym once or twice per week? Build a home gym that will allow you to do quality core work and some light arm and shoulder work. That way you only need a swiss ball, maybe a kettlebell or medicine ball, and a few random dumbbells you can find on craigslist.
You'll have equipment that directly will impact your physique, you'll be able to get your training in, and you won't have any excuses not to train.
Improvise
Okay, maybe you have to travel for a few weeks due to work, and you really don't want to stop exercising. Instead of just calling it quits, improvise. Were you already tired of your workout? Are you just going through the motions so you can make yourself feel like you're working out?
If so, let's come up with a way to improvise and with what you may have. Maybe you're in town for a conference and a couple of meetings, your hotel has a few pieces of equipment and maybe a fancy Bowflex. Try using the equipment as it was intended, but go for all out sets – and make it like circuit training.
Why not take those little neoprene dumbbells and start shadow boxing? While it takes consistency to see results in a program, going to a box gym to do your bro curls and half-benches is not the only way to be fit and have a decent looking body.
Come up with some fun ideas and actually enjoy the journey of getting fit. It's kind of like driving a Ferrari and never lighting up the tires… you have to have fun sometimes.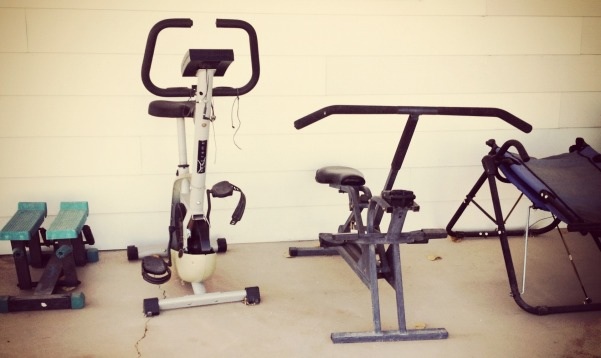 Next time you walk into your hotel's "fitness center" you better find some challenge you can do and have some fun.
Find out the rest on the next page…