The thigh-gap was one of the first body fads to break the internet, and now we have all these other body ideals breaking the interwebs, too. It's lovely and such a grand way to make us all feel so great about ourselves, isn't it? There is no better way to promote body positivity than with a sense of humor! Oh no, our thighs touch and we can squeeze a little bit of fat on our bellies.
Luisa Omielan is a London-based comedian who has declared war on this whole thigh-gap bullsh*t. She is pretty great actually and we couldn't help but applaud her hilarious takedown of these unrealistic body standards. In this video clip, she is seen proudly grabbing her stomach and dropping her pants to show her gapless thighs:
I remember when someone first told me about a 'thigh gap'. What a ridiculous thing to scrutinize. It's like every year there's a new fad on how to feel bad about yourself. –Luisa Omielan
Luisa is right! When is the next new fad going to break the internet? When is the next time all of us women are going to feel bad about ourselves yet again? Why not take her approach, because comedy can provide the ideal platform to talk about uncomfortable and/or painful things.
CONTINUED ON NEXT PAGE…
First the thigh-gap, now it's our waists? Our tummies might be too big for our hip-waist ratio. What the hell?! Why is this even a thing? We all come in different shapes and sizes, so how can someone say that having a pear shape is better for your health? We can't change our bone structure. Who here can pinch more than an inch on their bellies? If so, then apparently this is cause for concern. So what! Women are not made to look like 12-year-old boys.
These comedians are on to something here. Amy Schumer put it perfectly: "I think it's good to see somebody saying: I have a belly. And I have cellulite. And I still deserve love."
It is becoming a universal problem judging others and making women feel inferior, just because they don't have a particular body. We even have so-called plus-sized models, who are not even really plus-sized in real life, Ashley Graham being the case in point. Let's take her body love and spread that all over. Flaunt your body, girl!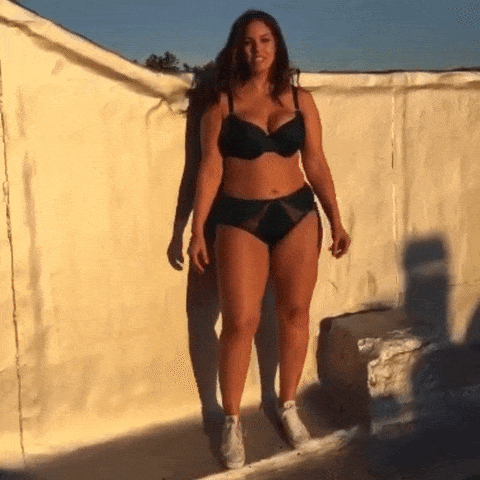 Now, we are not condoning an unhealthy lifestyle. In fact, we highly encourage leading a healthy lifestyle but don't stress yourself out. Stay active, limit your sugar intake and de-stress by all means, but please forget about this thigh gap sh*t.
The media has no say in what our bodies should or should not look like. The internet is just a mess of "you're fat because you have cellulite," a belly pooch and your thighs touch. Nope. We need these comedians to continue to bring awareness to body positivity in a fun and playful manner. Fat thighs, fat bellies and fat fun.
Listen to Luisa and Amy, go on a journey to love yourself and find beauty in your own skin. Comedy is here to help us take the edge off, make us laugh and realize we shouldn't scrutinize these things.
YOU MAY ALSO LIKE: