Gym Chat
30 Inspirational Atheletes You Must Follow in 2017
It's that time of the year again. Countless people will resolve to start living a healthier life starting 2017. If you're a gym regular, you'll see many new faces starting January 1. But as the days pass on, people lose their motivation and go back to their old ways.
Continuing on the fitness path needs a lot of motivation. It's up to you where you get it from. It could be your training partner or even someone you met on the internet. If you don't have someone like this in your life, we've got you covered.
We have brought together a list of inspirational fitness athletes who'll help you get into better shape. Since everyone is different, you may resonate and feel connected to a certain type of individual. We're sure you'll find that someone on this list.
1. Paige Hathaway
Paige Hathaway is one of the most prominent fitness athletes and models on Instagram. Her work ethic and workouts will undoubtedly get you going in the gym. Paige hosts many transformation challenges where the winners are awarded big sums of money.
2. Ana Cheri
Cheri – the right name for her. Follow her for some time and you'll fall in love with her down to earth attitude. She's got a knack for building businesses and runs a gym with her husband. Before you go, she was a Playboy Playmate. Go google.
3. Ashley Kaltwasser
Follow her on Instagram and you'll feel you're not having enough fun in your life. Ashley is a three-time Ms. Bikini Olympia. Her fitness and gymnastics skills are sure to wow you. She is trying her hand at everything, from modeling to YouTube and she's pretty good at all of them.
4. Courtney King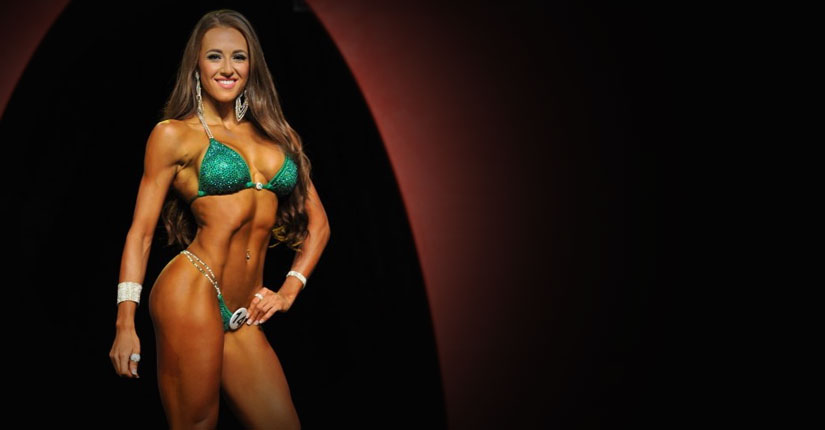 Courtney is arguably one of the prettiest fitness athletes there is. Ashley lost her Ms Bikini Olympia title to Courtney in 2016 – no rivalries building here. Courtney spends most of her time on photo shoots or in the gym and is currently dating Steve Cook.
5. Corey Gregory
Corey Gregory is the co-founder of Muscle Pharm. He follows a squat-everyday program and competes in various powerlifting competitions. Corey is a proud fourth generation coal miner who is putting in the hard work every single day to make it big.
6. Calum Von Moger
If you're a fan of the golden era classic physiques, you need to follow this guy on Instagram. He is known as the new-age Arnold. Calum follows a schedule but never takes it too hard on himself. He's your guy if you want to build a physique without stressing about it too much.
7. Dana Linn Bailey
https://www.youtube.com/watch?v=BAWooJ3uqSA
Talk about fitness inspirations and miss DLB? Can never happen. Dana Linn Bailey is a one-time women's physique Olympia champion. DLB is a people's person and documents most of her life on her YouTube channel. Head over to find some inspiration.
8. Jessica Arevalo
Jessica is arguably the most inspirational fitness athlete on this list. She has a great dressing sense and features in some of the raunchiest photoshoots. Jessica is an all natural Olympia bikini athlete. Follow her for some great training and nutrition advice.
9. Simeon Panda
This guy's physique makes it look like he's from another planet. Follow him for some time and you'll be motivated to lift some heavy weights. Simeon doesn't shy away from posting his failed attempts in the gym on Instagram. This makes you love him even more.
10. Ulisses Jr
Ulisses is one of the most sought after and highly respected bodybuilding and body composition coaches in the World. He goes by the name of ulissesworld on social media. If you're always on the lookout for new exercises, he's your guy.
11. Michelle Lewin
You thought we forgot, didn't you? Michelle Lewin is one of the most recognized fitness athletes in the world. She has a physique which is widely desired by men and women alike. Follow her on Instagram for some diet and fitness tips.
12. Alice Matos
If you fetish women who speak a foreign tongue, you've found your girl. Alice Matos is a fitness athlete and the owner of Labelamafia. Along with her stunning physique, she boasts a great business sense and travels around the world promoting her clothing brand.
13. Elliott Hulse
Elliott Hulse is a strength coach and the founder of the Strength Camp. He started out with a small gym and came to the mainstream through his YouTube channel where he discusses various problems and motivates people.
14. Kai Greene
Kai Greene is one of the most active Mr. Olmpia athletes on social media. Not only does he post regularly, he is a very motivational guy who likes to talk about meditation, art, and spirituality. Guys like him give the sport of bodybuilding a much wider audience.
15. Anllela Sargara
This Columbian beauty is a complete package. She has the physique and the social media skills to keep her fans interested and wanting for more. Be it yoga pants, denims or dresses, Angela can rock them all effortlessly.
16. Jamie Eason
https://www.youtube.com/watch?v=3RiwjRYc3sM
Jamie Eason is an icon in the health and fitness industry. She is one of the most regarded and respected personalities in this industry. She is a transformation expert who also has a supplement line. Follow her to get all the amazing nutrition and training tips.
17. Jessie Hilgenberg
Jessie is an NLA for Her Sponsored Athlete, health and fitness coach, certified yoga instructor, published writer, and fitness model. Her highly popular Jessie's Girls e-books and boot camps have helped countless women get in the bet shape of their lives.
18. Kris Gethin
Kris is one of the most hardcore bodybuilders in the industry. His training program, DTP, is one of the hardest training programs. DTP is also the most followed training program on bodybuilding.com. Kris has collaborated with almost all the big names in the industry for his training programs and videos.
19. Rich Piana
This might be a surprise addition to the list. Rich Piana is the owner of 5% Nutrition. His shot to fame was his YouTube videos where he openly talks about steroid use. If you want to know anything about gear, Rich is your guy.
20. Rob Bailey
Rob Bailey is one of the most inspirational guys on social media. If you watch his videos and still don't get motivated, there's something wrong with you. Rob is the DLB's husband and a workhorse. Just like his wife, his work ethic will make you question yourself.
21. Ainsley Rodriguez
Ainsley Rodriguez is one of the bubbliest fitness athletes in the industry. She is a Shredz sponsored athlete and a model. Ainsley is your best fit if you love to workout but also enjoy red wine on the weekends.
22. Nikki Blackketter
https://www.youtube.com/watch?v=KE-oZtKzzEs
Nikki Blackketter is a YouTuber and a fitness athlete. She also runs a very successful vlog where she talks about everything from fitness to make up. She is very transparent with her fans and at times even discusses her income with them.
23. Karina Elle
If fit models are your thing, Karina Elle is a must follow. Her perfectly toned body and golden color will keep you hooked on to fitness. Karina is Calum's girlfriend. If you want your girlfriend/boyfriend to start working out, you should make them follow this couple. They also have a couple account.
24. Bradley Martyn
Bradley Martyn is a beast. He has some really insane skills for a 6″3, 250lbs guy. Bradley is known for doing crazy stuff like squatting 315lbs on a hover board and jumping out of swimming pool. He's a must follow if you're into explosive strength and want some big ass arms.
25. Steve Cook
There are bleak chances you've never heard of or seen Steve Cook. Steve is related to some of the biggest brands in the fitness industry like bodybuilding.com and Optimum Nutrition, which tells you something about his caliber. Follow him for some really helpful fitness and diet tips.
26. Bradly Castleberry
Bradly is also known as The Manimal. Look at his Instagram and you'll be fascinated. He lifts huge weights while maintaining flexibility. Watch a few of his clips before your workout and you'll surely be on your way to tearing down your gym.
27. Ashley Horner
Ashley Horner has always been athletic, playing soccer at an elite level. But it took the births of her children to push her into full-time fitness. She is especially passionate about helping soldiers and the spouses of servicemen and women through her Op-6 and Camp Valor programs.
28. Alex Silver-Fagan
Alex Silver-Fagan is a must follow if you're into fitness and yoga. When everything in Alex's life was out of control, she found stability, comfort, and inner strength within fitness. "I hope to inspire others that with passion and dedication, you can do anything," she says.
29. Oksana Grishina
Oksana Grishina is a Russian former gymnast and current professional fitness competitor. She's 3X Ms. Fitness Olympia. She is known for having some of the coolest fitness routines on stage. Give her a follow for some daily fitness inspiration.
30. Mike O'Hearn
We saved the best for the last. Mike O'Hearn comes at the top of the inspirational fitness athletes' list. Mike is credited with the highest number of magazine cover shoots. He's one of the strongest bodybuilders and the creator of PowerBodybuilding. Mike is also one of the most humble guys in the industry.
Like this? Then you'll also enjoy: