Gabi Garcia, a 31-year-old athlete who has been a grappling world champion and has also had three mixed martial arts fights to her name—winning all three—was recently accused of taking male hormones by UFC commentator and BJJ black belt Joe Rogan.
Garcia is also a member of the IBJJF Hall of Fame. She has tested positive for the fertility drug Clomiphene, which is on USADA banned substance list, and this led to the disqualification of her results from the 2013 IBJJF World Jiu-Jitsu Championships.
Rogan, who accused Garcia, has never hidden the fact he himself uses Testosterone Replacement Therapy (TRT), and Human growth hormone (HGH), so he does know quite a few things about the field. He's said he uses it to cheat the aging process and supplements his steroids with vitamins and clean food.
Garcia's achievements, other than being nine-time world champion, also include two Abu Dhabi Combat Club championships, which she received at the Alliance team in Sao Paulo where she also trains.
Two of her main fights that could have been the game-changer for her career didn't happen; one was supposed to be her MMA debut and the other for the Japanese promotion Real Fight Championship. On December 31, 2015, Garcia knocked out Lei'D Paza in the first round of their duel in the Rizin fighting federation.
We personally don't know whether it is absolutly, without-a-doubt true if she is taking male hormones or not, but whatever it is she's doing, it's certainly working for her career. Garcia is a huge specimen. At 245 pounds, she outweighs just about any opponent she's ever faced by a vast margin.
In the United States, the average weight of a female is 166 pounds, whereas in Brazil, the average weight is 167 pounds. It's not only her weight but her height that makes one suspicious. She is even taller than the average man in both countries. In the United States and Brazil, the average woman is 5'4″ and 5'2″ tall, respectively, whereas Garcia is just under 6'2″ tall.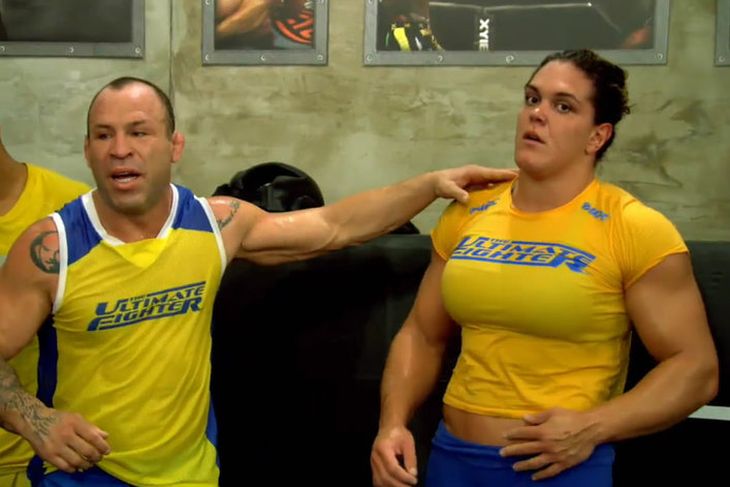 Clomiphene is a drug that helps restore testosterone levels and block estrogen's effects in a fashion similar to TRT treatment in men. It doesn't provide many athletic benefits to women except in one aspect that is 'helping with female infertility'.
Clomiphene is supposed to be used as a fertility drug when used by women, which also makes it possible Garcia may not be using the drug to gain a competitive advantage but to help her with fertility issues, because this is commonly a problem in world-class female athletes. It may be possible she's attempting to start a family. Even in the past, female athletes have tested positive for Clomiphene and have generally not been punished harshly.
Well, whether the substance provides an athletic advantage to her or not, it shouldn't have been taken as it definitely is a banned substance in USADA-governed federations and is against the rules. So, if she plans to one day fight in the UFC—which is highly unlikely—she'll have to clean up her act.
In fact, there are even stories of Clomiphene used as a masking agent, but looking at the punishment USADA gave to Garcia, it appears they are satisfied she did not use it for such purposes.
May we also suggest :