We are extremely excited about this cutting edge pre-workout product PTFv2.
PTFv2 is comprised of all name brand ingredients and superior minerals. The Pump Complex utilizes Citrulline Malate, Betaine Nitrate and Grape Seed Extract to promote Nitric Oxide.
500mg of Tyrosine for focus and concentration.
150mg of Vitamin C to prolong the nitrate effect and pump.
Contains the two patented forms of Creatine – Creapure® Creatine Monohydrate and Creatine MangaPower®. The two best forms available.
CarnoSyn® beta-Alanine for extended muscle endurance.
Hydration Electrolytes complex using Albion Tracks minerals – the most bioavailable minerals available.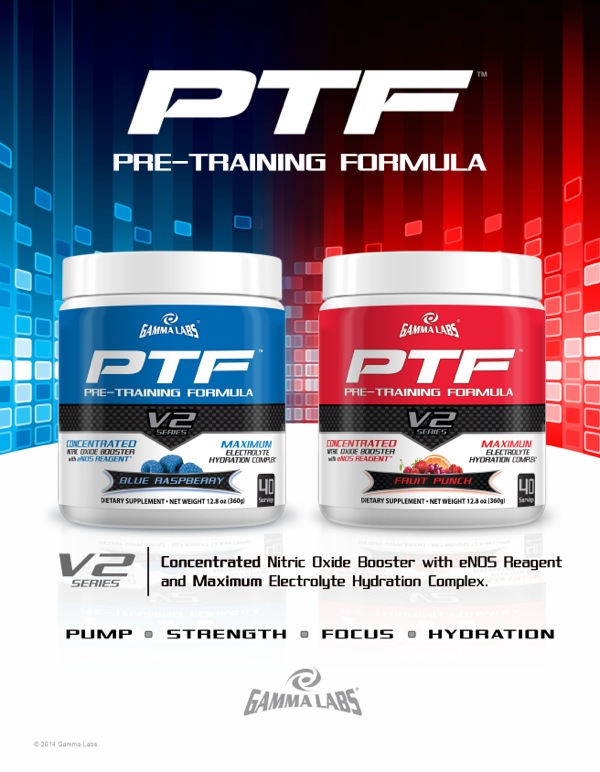 Here's what the athletes have to say:
#PTFv2 is the most powerful #preworkout on the market. A must have if you're serious about your training –> http://t.co/lelwvGHQPd

— Joe Lauzon (@JoeLauzon) April 22, 2014
Just tried @GammaLabs new #PTFv2 – this stuff blows any #preworkout out of the water. #TheAthletesPreWorkout | http://t.co/9vTfr4lZl3

— Gian Villante (@GPVillante) April 24, 2014