Men are from Mars, Women are from Venus. Many of us have been brought up to believe we live in a world where there's a constant battle for supremacy between the sexes, and while some take the contest to unnecessary extremes, there's nothing wrong with a little competition.
With that in mind, however, there is one field in which we're highly unlikely to see women match their gender counterparts anytime soon: Strength and speed-based mainstream sports.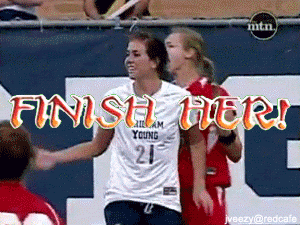 It's a difficult pill for some to swallow, but our biological differences mean testosterone-infused sports like American football—and by extension its elite body, the NFL—will always be played at a higher level by the dudes.
That didn't stop the folks at Buzzfeed putting their all into a recent test, however, to see how the farer sex fare when taking on the National Football League's Combine test a.k.a. one of the most demanding fitness tests known in sport.
Continued on the next page…
Of course, we aren't likely to see the same results or records we might witness in the male equivalent, but you may still be surprised at how some of our test subjects do..
Four women put themselves to the test in five exercises with the help of former NFL wide receiver Steve Smith to see what results they could come up with.
1. Bench Press
Our main strength-centric exercise was unsurprisingly beasted by the two ladies in the group who happened to come from more athletic backgrounds or were more frequently engaged in weightlifting activities in their leisure time.
While two taller and less muscular participants performed 26 and 31 reps with a 20kg bar, the more active duo of Michelle and Jordan both blasted past 100 reps each, showing just how effective consistent strength training can be in transforming one's core limits.
2. Vertical Jump
Despite being one of the shorter women taking part, pocket rocket Jordan took home the gold in the vertical jump, leaping 17.5″ compared to a rusty 16″ from the other three.
Someone's been hitting their squats.
3. Broad Jump
It may not be a surprise to learn that leg-loving Jordan also topped the charts in the broad jump, recording a leap of 7'1″, a massive eight inches more than any other participant managed.
And height means nothing without leg drive, it appears, after Kelsey, the tallest of our contestants by quite a few inches, jumped just 6'1″, only three inches more than the shortest attempt.
4. 60-Yard Shuttle
Onto the speed events, and it was once again our shorter women who thrived on an exercise based largely on agility and acceleration.
Michelle topped the lot while Jordan came a close second, both almost four seconds faster than Kelsey, illustrating why height isn't a grand advantage for anyone looking to become a running back.
5. 40-Yard Dash

Finally, our four ladies moved into the car park for a 40-yard dash, and the short, sharp movements of Michelle and Jordan fittingly saw them clinch first place with a joint-best of 5.8 seconds.
To compare, Chris Johnson and Rondel Menendez boast the NFL Combine record in the 40-yard dash with times of 4.24 seconds.
So, what did we learn from all this? Firstly, the Combine tests may be somewhat unfairly geared toward shorter, more explosive participants, and taller athletes may benefit from a 100-metre sprint being added to the mix.
Also, while we're unlikely to see a Women's Football League gain any mainstream notoriety anytime soon, there are certainly girls out there who can hold their own on the gridiron.
Like this? Then you'll also enjoy: