Is there a trend among today's female icons?
Today's obsession with fitness has led many of our female icons to have rock solid abs but no waist. Why are we trading the hourglass shape for the fatless, lean, linear look or is this just all bullshit?
Women are not little boys. So, this shift from the hourglass shape to a shapeless bottom makes you want to shake your head. I have a hard time believing this is a thing, considering every woman's body cannot possibly have the same shape.
We have these icons like Cameron Diaz and Gwyneth Paltrow with these figures, but what if that is just their body type?
I have athletic thighs and hips. There is absolutely no way I could ever achieve this look without unhealthy measures. I may have a long waist, but I am always going to have hips and booty no matter how fit and toned I get.
Davina McCall, fitness guru, has an incredible body at 48. Her athletic arms, thighs, and defined core could make her the envy of every women her age or even younger. Trading the customary womanly shapely middle for rock solid abs? This trend so called challenges the body beautiful campaign.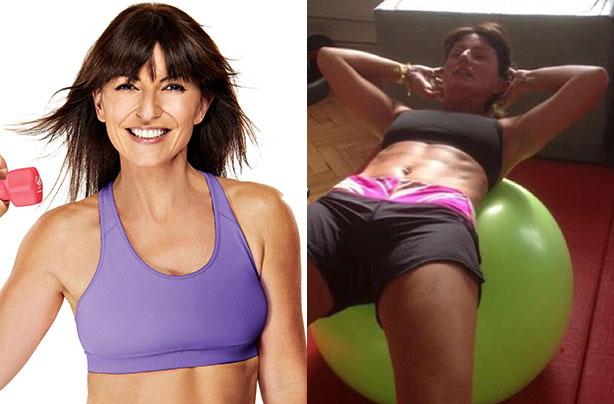 Continued below…
Why are these women craving straight, non-curvaceous figures is my question? Are other female icons falling into the trap of society just like the rest of us? We have seen this in magazines over and over again showing these 40-something women striving for this "Androgynous" look.
It can't possibly be the waistless era because that completely contradicts femininity. There is nothing wrong with embracing fitness; it is great for your own heath.
The issue at bay is the fact that gradually these women are coming to view their hips, breasts, and curvaceous waists as unwanted signs of excess fat. At this point it has extended into a complete obsession, which isn't healthy.
Here's the thing, as women, we are meant to carry more fat than men. Our bodies are not those of little boys. To achieve this look many women are turning to fitness and diet extreme leading to severely reduced body fat levels.
I know first hand, once you pick up those weights there is no turning back. You get this idea in your mind of wanting that chiseled athletic look and many athletes don't have curves especially male athletes. I do not understand why women want to compare themselves to muscular male bodies but apparently, this is the growing trend.
Continued below…
It's becoming more rare to see those women with curvaceous figures like the Kardashian sisters and this depressing. As a curvy girl myself, I am finding it increasingly more difficult to even shop for clothes. It's frustrating and I have grown to hate shopping because of it.
Why are all these clothes tailored to fit one body type? This is a completely different story but in general it shouldn't be this way. I love my curves.
Our curves as women are not excess fat. The fact of the matter is not everyone can achieve this ultra lean body shape and it has a lot to do with body type.
For some women, this lean look is their body type. And for others, no matter how hard they exercise, they will still retain their waist. In other words, striving for the impossible can threaten a woman's health. Stay in tune with your body and know what's healthily achievable.
You Should also check out and share these articles